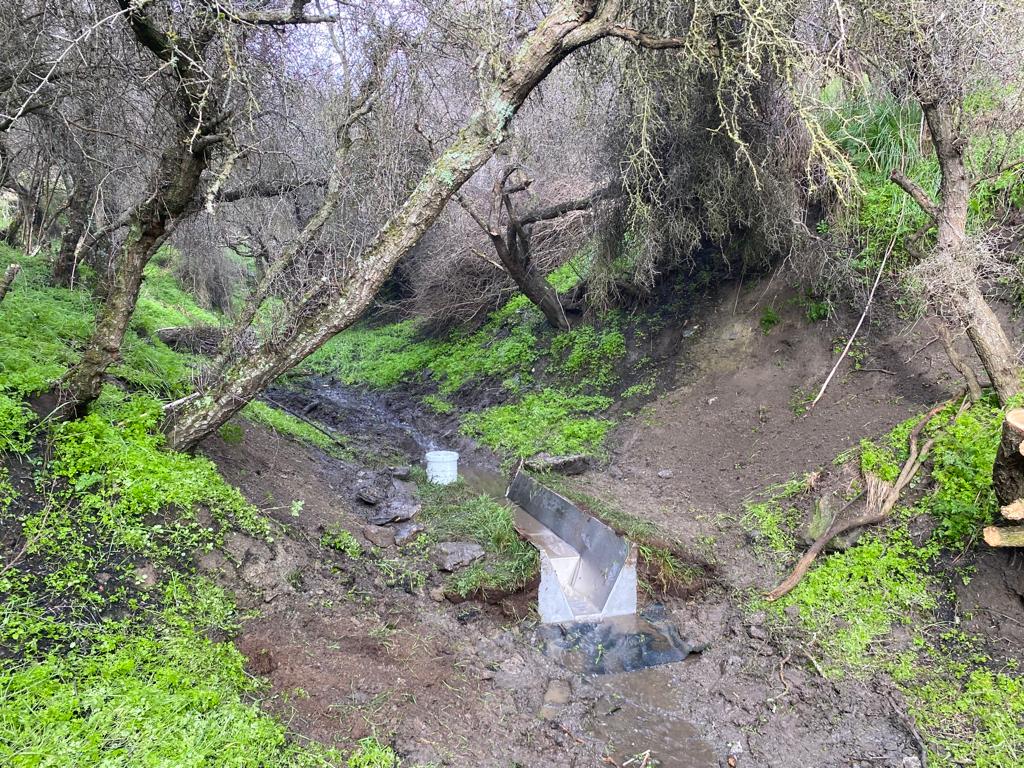 Early in 2022 Van Walt New Zealand was engaged by Santana/ Matakanui Gold to start a baseline of environmental monitoring at their site near Bendigo station.
The first part of the program is flow and basic water quality in the local creeks. For this we supplied appropriately sized RBC type flumes. We have the flumes made locally by a talented stainless-steel engineer. This ensures an accurately built and robust structure that performs as close as possible to its theoretical flow characteristic. A generously sized stilling well and connecting conduit allows the secure placement of a level, temperature, and conductivity logger. The CTD will provide representative data to calculate the creek flow during the year.
Last month (July 2023) we helped to install the fifth of these structures. The 0 to 80L/s flume is selected according to the expected flows of the creek. Fortunately, it is a manageable size for two able bodies to man-handle through the bush and down into the creek. We managed to get the 4x4s to within a 100m of the monitoring site, so we did not break into a sweat moving the flume and instal materials. The key to a good install is to choose a suitable location. We are looking for a site which is as straight as possible with just enough fall, long enough for the structure plus a couple of meters of inlet for laminar flow and a flat smooth base for the flume to sit on.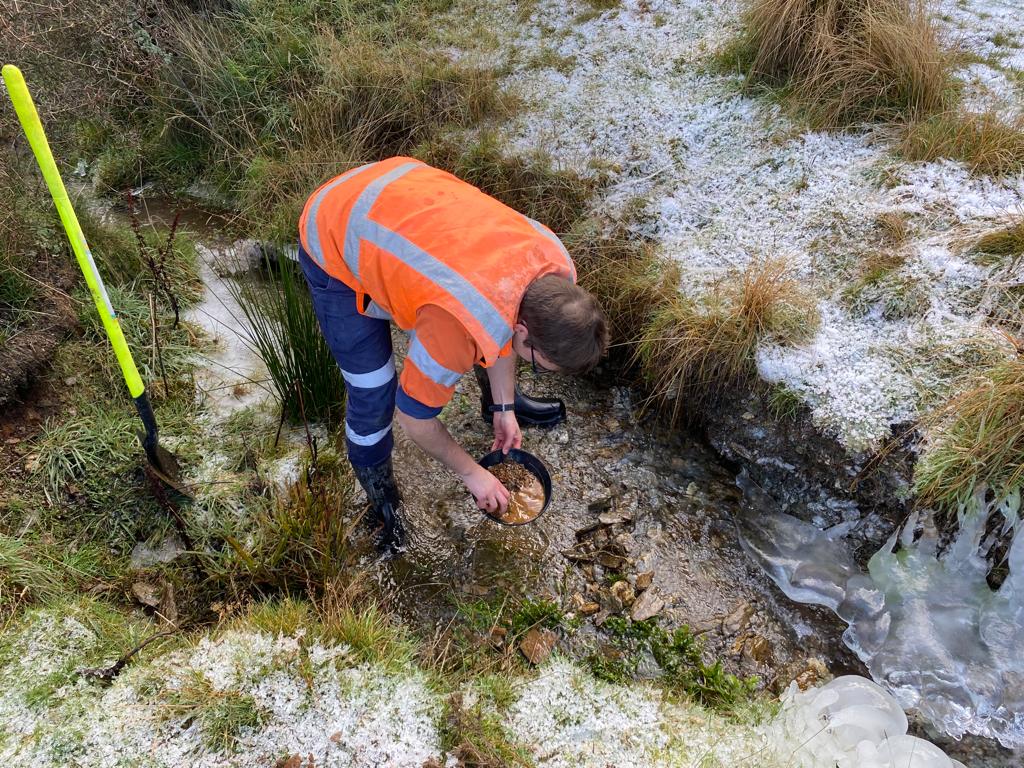 We rake the creek bed flat and lay down Astro turf. This helps to seal the base and stop the bed from scouring out. A bit of fiddling around until the flume is level in both directions and it is time to build up the banks to meet the top of the structure. We start at the intake end and pack the gap with material that has a high plant and root content. This gives the bank a strong and water-resistant structure. Using natural local materials to build the banks up reduces potential contaminants from foreign materials and ensures we have similar materials at hand to make repairs during the life of the system. We pack the banks down and do a little polite landscaping to aid the performance of the flume and make it look as innocuous as possible. Job done!
The installation of the flume and sensor only takes a couple of hours to do. Give it a little time to settle and the creek will run clear, healthy, and unobstructed. Time even to check on the other structures and do a cheeky spot of panning.
Could get lucky…….!