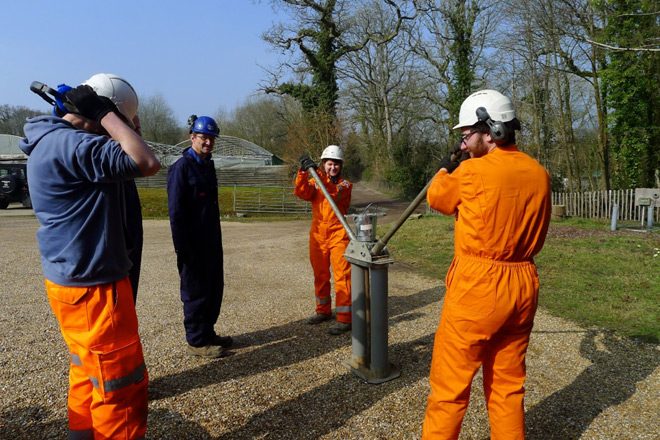 Or, more accurately, our customers! It seems that over the last few weeks we have been onsite almost weekly with customers, training them on drilling and taking samples with our Percussion Window Sampling System.
When the sun shines, it helps but whether customers are using the equipment for research into sand dunes, archaeological digs or sampling the soil foundations for a new housing development – the Van Walt Window Sampling System is proving invaluable.
It's not just Consultants and Geotechnical Drillers using this site investigation kit, we have many Universities who find our window sampling system an integral element of their soil research equipment whether on field trips in England, Ireland, Scotland, Malta or even further afield – South America.
Van Walt's Window Sampling System is a powerful, non-destructive, low disturbance site investigation tool. It uses laser cut, high entry efficiency samplers in our unique, robust, no maintenance, left-hand thread RD32 connection. It is ideal for sampling and research in sites with restricted access, where there is the potential for contaminated samples or for the exploration of base metals and mineral deposits, like gold and other precious metals.
The benefits of the Window Sampling System are many and include:
Customisable according to your requirements
On-site training provided with every set
Ideal drilling equipment for restricted access
Robust and strong RD32 connection
Practically maintenance free
Perfect for taking metre long undisturbed samples
Suitable for contaminated sampling
Completely non-destructive sampling technique.
I recommend you take a few minutes to watch our Window Sampling film to see how effective and flexible the system can be.