PT12 Pressure & Temperature
The PT12 Pressure & Temperature sensor for Water level monitoring. Designed to resist the elements so the PT12 delivers accurate water level (pressure) and temperature readings in rugged environments.
Contact Van Walt
Advantages
The PT12 can transform your analog sensors into a digital sensor system. Easy to connect with SDI-12 recorders— convenient for an existing SDI-12 system plus a Modbus® RTU communication interface for further flexibility. Delivers great noise immunity, thermal performance, and transient protection.
Designed for rugged conditions, the PT12 delivers accurate pressure and temperature
SDI-12 v1.3 interface
Modbus® RTU interface
Optional U.S.G.S. OSW accuracy enhanced calibration on the 15 PSIG unit.
Read More
PT12 Pressure & Temperature Equipment Options:
Monitoring groundwater, well, tank and tidal levels
Pump testing
Flow monitoring
Body Material
316 stainless or titanium
Wire Seal Material
Fluoropolymer and PTFE
Cable
Submersible: polyurethane, polyethylene, or ETFE; 4 lb./100 ft., 1.8 kg/30 m; 2000 ft max for Modbus®
Desiccant
1-3 mm indicating silica gel
Field Connector
Available as an option
Operating Range
Recommended: -15 ̊ to 55 C̊ (5 ̊ to 131 ̊F) Requires freeze protection kit if using pressure option in water below freezing.
Storage Range
-40 ̊ to 80 ̊C (-40 ̊ to 176 ̊F)
Voltage
9-16Vdc, 24Vdc over voltage protection, electromagnetic & transient protection IEC-61000 – 4-3, 4-4, 4-5, 4-6
Supply Current
Active 3mA average/ 10mA peak; sleep 150 μA
Modbus®
RS485 Modbus® RTU, output=32bit IEEE floating point
SDI-12
SDI-12 (ver. 1.3) – ASCII
Element
Digital IC on board
Silicon strain gauge transducer, 316 stainless or Hastelloy
Accuracy
±0.5°C — 0° to 55°C (32° to 131°F)
±2.0°C — below 0°C (32°F)
±0.05% FSO (typical, static)
±0.1% FSO (maximum, static)
(B.F.S.L. 20°C)
Resolution
0.06°C
0.0034% FS (typical)
Ranges
-15° to 55°C (5° to 131°F)
Gauge
PSI: 12, 5, 15, 30, 50, 100, 300
FtH2O: 2.32, 12, 35, 69, 115, 231, 692
mH2O: 0.72, 3.5, 10.5, 21, 35, 70, 210
Absolute3
PSI: 30, 50, 100, 300
FtH2O: 35, 81, 196, 658
mH2O: 10, 24, 59, 200
Compensated
0° to 40°C (32° to 104°F)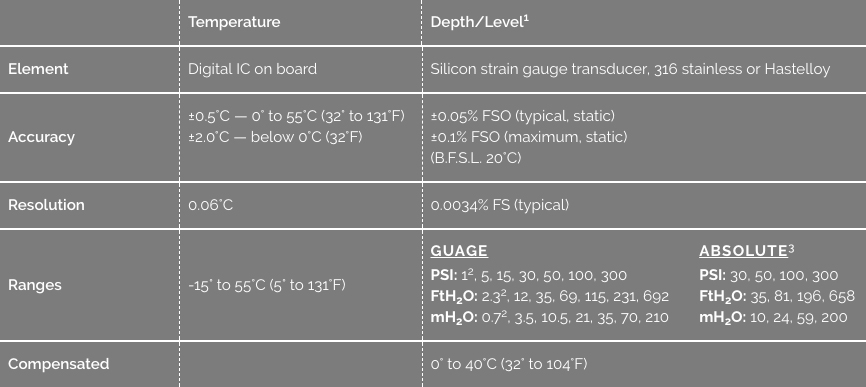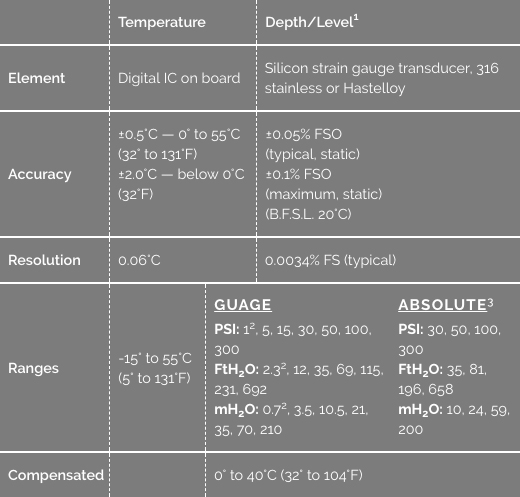 Max operating pressure
1.1 x full scale
Over pressure protection
3x full scale up to 300psi – for > 300psi (650 ft or 200 m) contact factory
Burst pressure
1000 psi (approx. 2000 ft or 600 m)
Environmental
IP68, NEMA 6P
* Specifications subject to change. Please consult out web site for the most current data (inwusa.com). Modbus is a registered trademark of Schneider Electric.
1 Higher pressure ranges available upon request
2 ±0.25% accuracy FSO (max) at this range
3 Depth range for absolute sensors has 14.7 PSI subtracted to give actual depth allowed
Have a question for Van Walt?
Oops! Something went very wrong. Please refresh and try again...