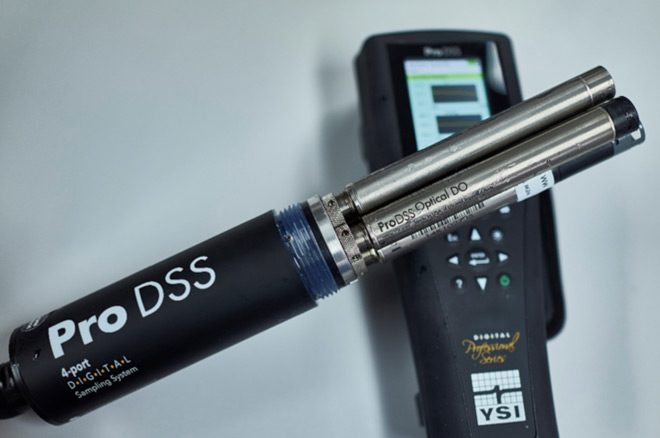 If you are looking for accurate, reliable, consistent results when working in the field, we always recommend selecting the best equipment available – it pays dividends in the long run. Choose an instrument that has been designed, tested and intended for fieldwork – any compromises could lead to incorrect readings, delays onsite and additional costs – not accounted for in your budget. A purchase economy could prove costly in the long-term particularly if you need to future-proof your fieldwork activity.
That's why, at Van Walt, we are delighted with the YSI ProDSS – the latest, smartest, most innovative portable water quality multi-parameter instrument from the YSI stable. A handheld display designed specifically for rugged environments, the ProDSS measures water parameters like dissolved oxygen (optical), pH, ORP, conductivity, specific conductance, salinity, TDS, resistivity, TSS, ammonium, ammonia, chloride, nitrate, depth, temperature and, most importantly, turbidity.
The measurement of turbidity is growing in significance as more and more literature from the US surrounding low flow sampling, points to the need to measure turbidity and may, sometime soon, be part of the UK's protocols for water quality monitoring.
This is just one of the reasons why the YSI ProDSS, that uses advanced technology from the innovative EXO series, is, in our opinion, the best field handheld available. With real-time graphs, high grade sensors with a two year warranty; higher accuracy for temperature readings and DO; faster calibration and the ability to add different sensors at any time – it's hard to see why you might be tempted to use anything else, definitely substance or hype!
The ProDSS comes with a three year warranty and the advantage of being the creation of YSI who have led the environmental, water quality and Life Sciences markets for over 65 years.
Here are some reasons why the ProDSS is so exceptional and how it may compare to other products:
Handheld high contrast and visibility display designed for rugged, outdoor environment
Real-time graphs –the software will be updated so you can choose the parameters to view for stability – Ideal for low flow purge applications
High grade sensors – titanium / sapphire glass with two year warranty
Higher accuracy DO sensor over the 0 – 200% range
Higher accuracy temperature reading
Ability to add turbidity for current and future requirements
Ability to calibrate three sensors (plus CT) at the same time for example calibrating three pH/ORP, Turbidity or Dissolved Oxygen sensors significantly reducing operating costs for customers with multiple units
True plug and play smart sensors meaning you can add any sensor at any time
Replaceable pH/ORP head to reduce cost of ownership
Option for ISE's like ammonium, nitrate or chloride
Three year handheld warranty
Handheld powers the cable so no risk of flat battery on either the link or the smartphone (double the risk of a flat battery)
YSI proven in water quality with largest install base in the world
At Van Walt we rent and sell the YSI ProDSS. For more information contact Ikky on ikky@vanwalt.com or +44 (0)1428 661 660.