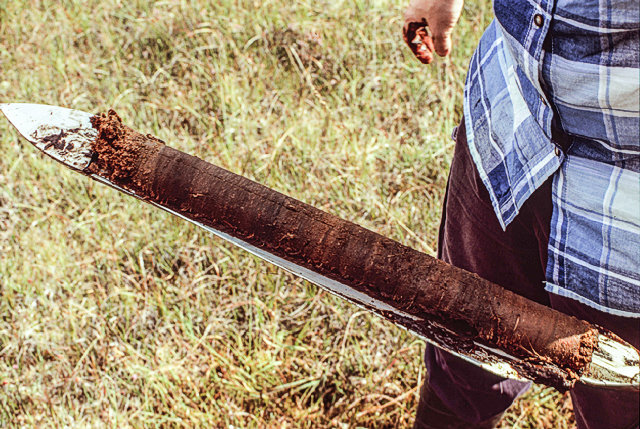 The Peat Sampler, or Russian Corer, is almost as old as I am. It is based on a design of a device used in the Soviet Union by Belokopytov and Beresnevich towards the middle of the 20th century. Over the years it has been refined into the popular item it has become today.  In fact so popular that just this week Van Walt has received orders for 8 full Russian Corer Sampling Sets with case, extensions and accessories to reach a depth of 10 metres.
The stainless steel sampler (some people call it a spear) is in fact a type of gouge auger which is pushed into sediment manually. The sample containing part is a half cylinder which is sealed off by a plate (the fin) which pivots around an axis so that it can "trap" the sample within the chamber. This sampler is only suitable for weak sediments and consequently ideal for peat.
The following pictures are from last year's QRA meeting in the New Forest and they show how the Russian corer can take beautifully undisturbed samples.
Vincent van Walt vincent@vanwalt.com