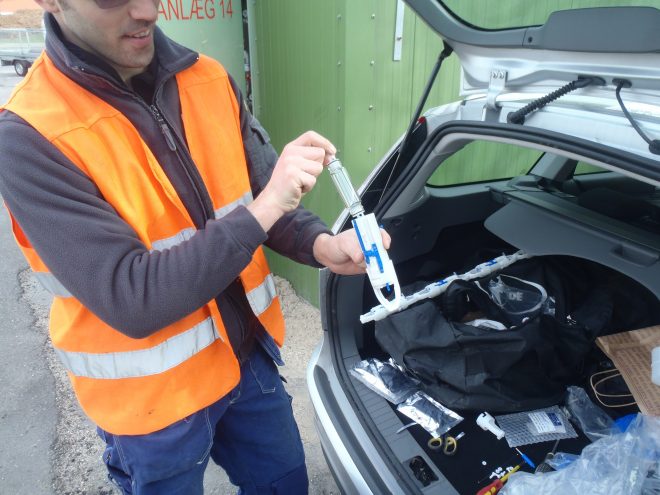 No purge sampling is an environmentally friendly groundwater sampling solution.  We believe it is better, cheaper, more accurate and can save time in the field, so it's easy to see why no purge sampling devices are gaining acceptance within the environmental research community and being seen as the future in terms of groundwater monitoring solutions.
In addition to the cost savings and benefits already listed, the logistics of no purge samplers are simple and although there is no "one size fits all" solution, some no purge samplers are good for VOC's and others for inorganics – the only question that remains is 'which is best for me'?
At Van Walt we are delighted to be the exclusive UK and Eire distributor of the Snap Sampler: a passive groundwater sampling approach that seals groundwater samples onsite. The system is ideal for most sampling situations and also especially helpful in difficult conditions such as low yield wells. With the Snap Sampler a sample is never exposed to the open air and collection of the sample does not require pumps, controllers, meters and purge water waste containers. It is quick and easy to collect the samples and so saves money on sample collection costs.
Recently the US Environment Protection Agency (EPA) chose the Snap Sampler for a groundwater monitoring project at a high profile Superfund site on Long Island, New York.  The Snap Sampler was selected and specified for monitoring a large and dilute TCE plume associated with historical industrial activities in a location highly susceptible to drinking water impacts.
The Snap Sampler method met the needs of the EPA through its unique combination of:
– high data quality – ease of use – avoidance of investigation derived waste (IDW) – cost savings.
While a site approval is not blanket approval throughout the US, EPA approval at this site is an important precedent as selection was based on the equipment's merits and a no purge approach is in an urban setting where IDW handling and cost are important and where high data quality for VOC recovery at low concentrations is essential.
Where the Snap Sampler also excels is when deep sampling as its pneumatic trigger system will activate as deep as 600m. At this depth pumps can become less effective unless potentially hazardous high pressure gas is used.  The Snap Sampler captures a sample down-well by "snapping" closed at the position you choose.  The pneumatic trigger system requires only about 50psi of air pressure to snap, regardless of how deep the samplers are submerged.
– Very deep sampling made easy – Low pressure activation – Minimal equipment requirement – Sample from exactly where you want.  
A single air tube is used to lower and activate, the Snap Sampler system.  A check ball in the actuator allows water to rise in the air line, creating hydrostatic equilibrium with the water level.  This means that air pressure to activate the trigger does not need to overcome submergence—only the activation pressure of the actuator itself.  Theoretically, there is no depth limitation with the pneumatic Snap Sampling approach.
The Water Replenishment District of Southern California completed a test in late 2012 where Snap Samplers were deployed to nearly 2000 feet (600m) below ground surface, and nearly 1900 feet (570m) under water.  Snap Samplers captured samples with this system at the precise depth deployed.  A small 12v tyre pump was all that was needed to "Snap" the Snap Samplers.
For more information about the revolutionary Snap Sampler click here or call us on 01428 661660.