Groundwater low flow purging and sampling
Designed for installations in wells as narrow as 10mm
Optimised power consumption to cater for an average day's sampling
Very low maintenance. Only periodic external cleaning is required
Relatively low weight with integral heavy-duty handle
And, if anything does go wrong, the modular design allows for easy and cost-effective part exchange
Power Supply
24V system powered by 2 x Sonnenschein (A512/6.5S) 6.5 Ah gel technology ultra deep cycle lead acid batteries
Run-time
On full revs: 7 hours on fully charged batteries.
Maximum Head-lift
9.25 metres with GTSIL silicone tubing. Different flow rates and head-lift possible with other tubing sizes
Housing material
Bespoke heavy duty hexagonal aluminium housing, powder coated in black with a 3mm marine grade stainless steel removable front plate
Pump Head
Masterflex MK-07514-12 easy-load pump-head with 4 rollers
Pump Speed
A potentiometer with integrated on/off switch regulates pump speed steplessly.
Pump Motor
Nanotec SCB5618M4204-B – stepper motor with fluxfocus technology – NEMA 23. Stepper motor programmable controller regulated by the potentiometer
Battery Vents
2X external vents for batteries
Battery Protection
Battery protection module with red LED warning light. Pump switches off automatically after a 90-second flashing "battery low" warning
Charging
External port on housing for charging
Charger
Mascot 24V external Charger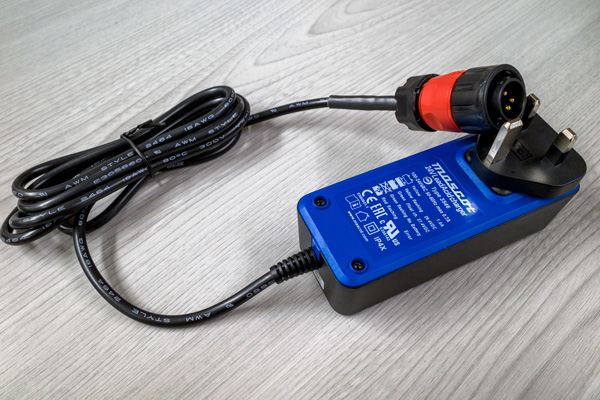 Dimensions
Hexagon, 330 X 306 X 220mm (HXWXD)
Wiring
Tinned, marine grade harness
Flow Curve
Flow curve at full revolutions (500 rpm) using GTSIL silicone tubing and 6X8 mm LDPE discharge tubing (12.20.04)