Single & Extendable Augers
Single & Extendable Augers. Eijkelkamp Augers are available as single units or a tailored set can be made using auger heads, handles and extension rods. So a set of Augers and Extension Rods to suit your specific soil sampling requirements
Contact Van Walt
Advantages
Ideal for soil mapping; suitability reviews; root, fertilisation, clay and paleontological research – all with minimal disturbance.
A variety of Auger heads available for different soil types
Will take samples in the toughest of soils
Fast and easy to use
Will cut through bricks and withstand stones
Virtually undisturbed profile for analysis
Made from non-toxic high tensile strength steel
Read More
Single & Extendable Augers Equipment Options:
Soil profile description and classification
Soil sampling above groundwater table
Soil sampling below groundwater table
Archaeological soil research
Environmental soil research
The different Auger Heads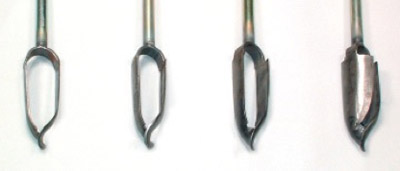 *From left to right:
Clay Auger
Clay soils are very cohesive. Therefore the blades of the clay auger can be narrow, having the advantage that they meet with little resistance.
Edelman Combination Auger
The combination auger type gets a reasonably good hold of sandy material while clayey material can be fairly easily removed from the auger body.
Sand Auger
Sandy soils are not cohesive. To keep the sample inside the auger, this type has broad blades.
Coarse Sand
Coarse sand soils and extremely dry sand soils have little or no cohesion at all. The blades of this auger are extended with extra wings, thus forming an almost closed auger.

This design is very suitable for augerings in hard, stiff soils, mixed with fine gravel both above and below the ground water level. The very sharp extremities of the auger bits point at an angle downwards. This design makes the auger go through the soil easily.

For soils with a large gravel content. The auger body for stony soils consists of a heavy steel strip, vaulted all along, which is bent double by forging. The pointed cutting bits of the strip are bent outward, thus creating a hole some-what wider than the average body diameter. The stony soil auger is used when the Riverside auger is not yielding adequate results in coarse gravel soils.
Bayonet connection extension rods
Conical screw thread connection extension rods
Ergonomic & normal handles in various sizes
Manuals & Downloads
Web Pages

Video Links

Online Magazine